Garlic was one of the very first things I planted when I started gardening 16 years ago.  There's something about the magic of putting a clove in the ground and getting a bulb back at the end of the season that made me want to try it immediately.  That first year, my boyfriend and I planted garlic cloves in unamended clay soil (clearly we didn't know anything about compost at the time).  We watered it every day and watched it grow.  7 months later, we harvested what has become the best garlic I've ever grown in my life.  Until now.
Each year I've planted garlic at my Ocean View Farms (OVF) plot, and each year the sandy soil doles out its best hardships to keep my garlic from growing big and strong.  Most people have given up growing garlic at OVF, there's just too much rust or nematodes or something that prevents it from doing well. The end result is usually a garlic bulb about an inch and a half in diameter. Small, tasty cloves – still worth growing, but nothing to write home about.
This year, as with every year, I planted organic garlic cloves from  Seeds Of Change – Kettle River Giant – but this year I planted them in my home garden.  While the plants have developed a little bit of rust, they seem to be thriving in this soil, less than a mile down the street from my OVF garden.  As they start to die back and fall over, I have decided to harvest them while the foliage is still a little green, rather than wait until the whole plant dies back. This has proven to be a good decision so far.  Here is a picture of the one I pulled / lifted out yesterday.  There's a quarter next to it so you can see how big it really is.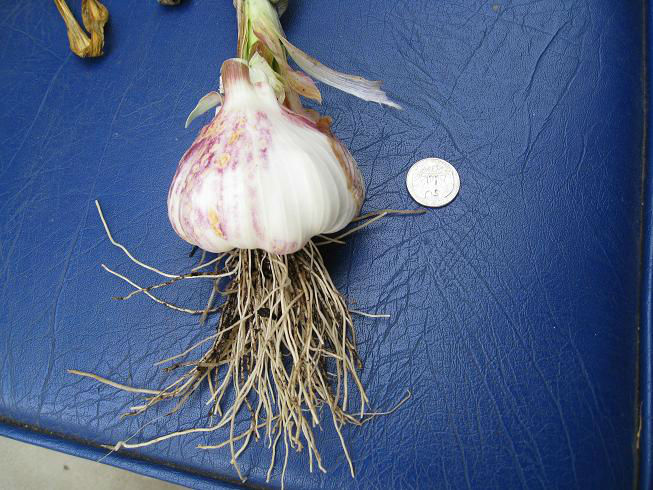 If it hadn't been 8 a.m. when I picked it, I would have been running around yelling at the top of my lungs in celebration. Now it's just a matter of resisting the urge to uproot the other bulbs to see how big they've grown.
Are you growing garlic this year?  Any tricks you'd like to share? Post them here.